A big, huge event just ended in Rome a couple days ago. At least, if you followed the American media you'd think it was huge, anyway.
The Synod on the Family, though significant enough in its ability to be a litmus test of where the world's bishops stand on key issues, was never going to change Catholic doctrine, because that never been (and never will be) its purpose. It also wasn't just something where bishops got together and talked about divorced or gay Catholics. Instead, it was about much more — You know, because the family is important because everyone comes from a family and if the family didn't exist neither would the world or any of us.
The Synod was more or less an advisory meeting of bishops, gathered to help Pope Francis continue to guide the Church with how She cares for the family and all the mess that comes with it. But not everyone has the time to pore over news articles about documents and arguments and speeches, so here's a quick rundown of what happened, the reactions, and where we go from here. Let the GIFs be your guide…
Pope Francis, wanting good input from lots of viewpoints, beckoned a group of bishops, priests, religious women and men, and laypeople from all over the world to the Eternal City. 
Then, presumably, Pope Francis stood up and was like…
Meetings started in early October, with the working purpose being, "The vocation and mission of the family in the Church and in the contemporary world." The goal would be coming up with an advisory document for Pope Francis, with which he would presumably produce a clear path for the Church in a teaching document — called a "post-synodal apostolic exhortation".
Actual discussions between attendees weren't open to the public, so all we had to go off of were reports from journalists and … sadly … armchair interpreters on Twitter of both an ultra-conservative and more left-leaning Catholic bent.
Save yourself some time. Here's the gist of those tweets:
And for those who seem to have forgotten Christ's words in Matthew 16:18, this was the consensus:
To which more level-headed folk, in full understanding that the Synod was most certainly NOT dismantling the Church, wished to be all…
But instead were more inclined to throw up their hands and be like…
Now, the Synod hath ended, and guess what?
Nothing's changed! The bishops of the world are strongly in favor of what the Church teaches! And, most of all, we're still here!
Pope Francis is a trustworthy leader, who, considering he's made both sides uncomfortable for different reasons, seems to be doing his job right. You know who else did that? JESUS.
And so, I'd like to offer some words of advice to anyone (and everyone) losing their heads over all this business: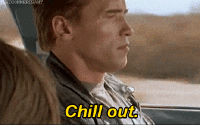 The Holy Spirit is still in charge, and last time I checked, that wasn't any of us. Let's remind ourselves (ad nauseam) that God is God and we are not. That is all.
Oh, and one more thing:
*****
Thanks for reading! Check out Mountain Catholic on Twitter, Facebook, and Instagram.